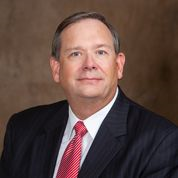 Thomas
Barnes
Financial Advisor
Thomas Franklin Barnes II is a licensed Investment Representative at Parable Financial Network. He has been striving to guide his clients to their financial successes since 1999. Thomas offers a wide range of financial products to his clients.
Thomas's interest in putting money to work began when he was sixteen. One of his lawn care customers intrigued him with the definition of a stock broker.
Thomas went on to grow in wisdom at Auburn University where he graduated with his degree in Criminal Justice. His subsequent law enforcement career provided Thomas multiple opportunities to gain valuable knowledge and experiences working with people in all walks of life, and to build productively-positive relationships with them. His career path eventually moved on from law enforcement to retail management/finance before he transitioned to the world of finance.
Thomas is happily married to Ann D. Barnes. They travel between St. Simon's Island, Georgia and St. Joseph, Michigan. Between the two, they have 3 independent, grown children and one precious grandchild. Thomas volunteers as Co-coordinator for Dave Ramsey's Financial Peace University classes available through St. Simon's Community Church. St. Simon's Island, Georgia.  Financial Peace University is designed to teach folks how to get out of debt, stay out of debt and to build wealth for the future. (Dave Ramsey and Triad Advisers are not affiliated.) Thomas also leads his church community home group, often as leader AND teacher.
Why work with Thomas?
Thomas has the gifts of teaching and encouragement – a great combination! He breaks down challenging information with easy-to-understand explanations and spot-on illustrations. Thomas contacts his clients directly to point out and discuss possible improvements to client investments. His clients appreciate his quick response time to their individual needs. Bottom line, he wants what is best for his clients. Thomas is well respected for his high level of integrity which he attributes to his deep faith in Jesus Christ, his Lord and Savior.