February Newsletter 2023
14 Candy Heart Love Notes to You from God
1. MY LOVE
God told us in John 15:13, "Greater love has no one than this…"
2. MY POEM
In Ephesians 2:10, God calls us His workmanship and in Greek, that word translated means poetry.
3. SOUL MATE
In Matthew 22:37, Jesus tells us to love the Lord God with all our heart, all our soul, and with all our mind. The world tells us our spouses are our soul mates...but God truly is.
4. LEAN ON
If you're going to lean on anyone with your whole heart, it should be on the Almighty One. The all-powerful, everlasting God. And he's so big, that even when you lean with your whole weight, he doesn't budge.
5. MY CHILD
God is your heavenly Father. Not only does he love you with a pure love, but he loves you enough to discipline you as it talks about in Proverbs 3:12
6. MY DELIGHT
Proverbs 12:22 tells us that God delights in those whose walk is blameless. And your walks are blameless when you trust in the sacrifice Jesus made for you.
7. COME
God invites you to come to him when you are weak and heavy-laden in Matthew 11:28.
8. FEAR NOT
He whispers to us that we don't have to fear. It's been said that God mentions fear over 365 times in His Word. Enough times for you to read one verse for each day of the year.
9. 4EVER LOVE
God tells you in Jeremiah 31:3 that he has loved you with an everlasting love.
10. MY LAMB
God calls his people the sheep of his pasture in Psalm 100:3. You are his little lamb that the Great Shepherd gently leads through valleys and into green pastures, all the way home.
11. U R MINE
Isaiah 43:1 tells you that God has summoned you by name, and then he tells you, "You are mine."
12. NVR 4GOT
Isaiah 49:5 tells us that a nursing mother may forget her child, but that God will never forget you.
13. CHOSEN
1 Peter 2:9 reminds you that you are special to God:
14. BLESS YOU
Ephesians 1:3 assures you that you are blessed with all spiritual blessings in Christ.
What Is a Transfer on Death Account?
TOD accounts can be set up for investment accounts, including mutual funds and stocks and bonds held in a brokerage account. Some states also recognize TOD deeds to transfer property ownership outside of probate.2 To receive the investments after the account holder passes away, the beneficiaries of a TOD account will need to provide the investment company with an original death certificate for the owner.
The remaining investments will then be transferred to the beneficiaries named in the beneficiary designation form on file with the investment company in the percentages specified. Note that if a revocable living trust is named as the beneficiary of the TOD account, an employee identification number (EIN) will need to be obtained for the trust before the investments can be transferred to the trustee of the trust after the owner dies.
What Is a Beneficiary?
A beneficiary is a person (or entity) who is designated to receive the benefits of property owned by someone else. Beneficiaries often receive these benefits as part of an inheritance.
A beneficiary can be designated in the documents relating to a life insurance policy, a retirement account, a brokerage account, a bank account, and other financial products.
It's important to designate beneficiaries for your financial assets so that they can be distributed according to your wishes when you pass away.
KEY TAKEAWAYS
A beneficiary is an individual who receives a benefit which is often a monetary distribution.
Distributions can have tax consequences.
Beneficiaries who inherit a retirement account may have various options for the distribution of its funds.
Options for distributions from Inherited IRAs depend on whether the beneficiary is an eligible designated beneficiary or a designated beneficiary.
You can change the beneficiaries on financial accounts at any time, though doing so requires completing and returning the relevant paperwork.
What is a "Trusted contact?
Person that you authorize your brokerage firm to contact in limited circumstances, such as if your broker has trouble reaching you or has a reasonable belief that your account may be exposed to possible financial exploitation. A trusted contact person must be age 18 or older.
What Is a Power of Attorney (POA)?
The term power of attorney (POA) refers to a legal authorization that gives a designated person the power to act for someone else. As such, a POA gives the agent or attorney-in-fact the authority to act on behalf of the principal. The agent may be given broad or limited authority to make decisions about the principal's property, finances, investments, or medical care.
There are two main types of POAs, financial and health care—both of which provide the attorney-in-fact with general or limited powers.
KEY TAKEAWAYS
A power of attorney is a legal document that gives one person the power to act for another person.
The person who receives the authority is the agent or attorney-in-fact while the subject of the POA is the principal.
The agent can have broad legal authority or limited authority to make decisions about the principal's property, finances, or medical care.
The POA is often used when the principal can't be present to sign necessary legal documents for a financial transaction.
A durable power of attorney remains in effect if the principal becomes ill or disabled and cannot act personally.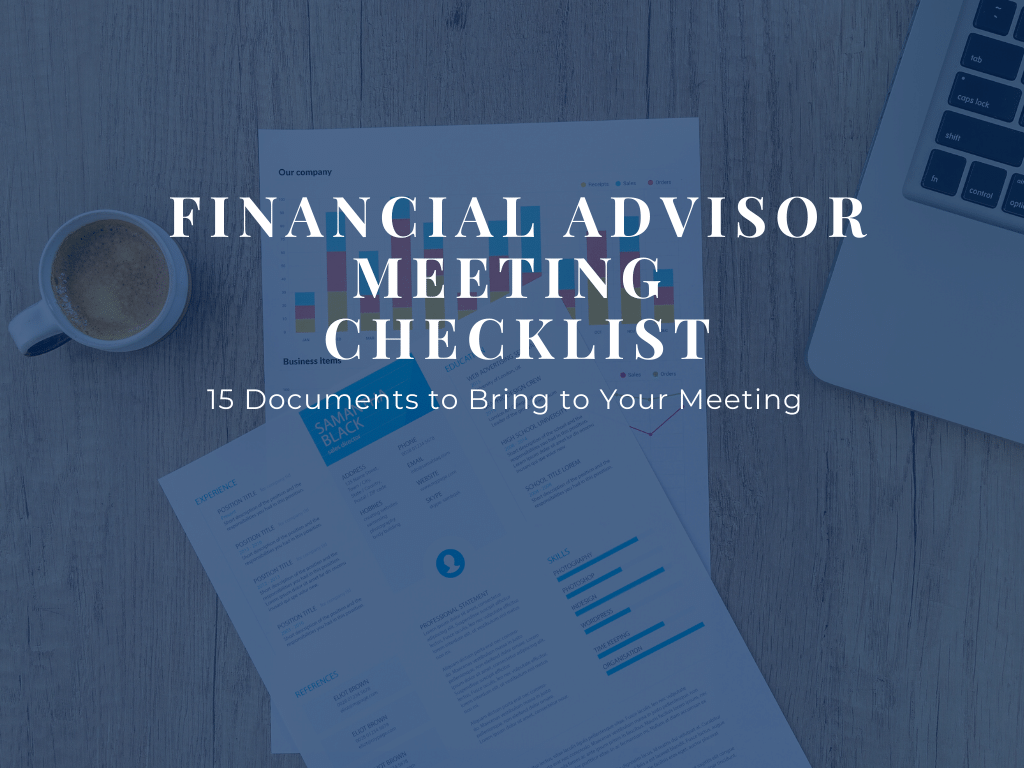 What Should I Bring to My Meeting with a Financial Advisor?
We created this financial advisor meeting checklist to help you get ready to meet with your advisor. Some of these items may not apply to your particular situation. Simply use this financial advisor checklist of documents to guide you as you prepare.
Investment account statements
Retirement account statements including 401(k) and 403(b) accounts
Pension estimates, if applicable
Annuity statements
Life/Long-term care/Disability insurance policy information
Home values and information on any real estate holdings
Mortgage information
Student loan statements
Value or appraisal of any significant personal property like boats, automobiles or jewelry
Business valuations (if you own your own business)
Stock option plans
Social Security statements
In doubt about an item? Bring it along. We can help you sort through the details.
Note: Keep in mind, you may not have all of these documents above. These are our top suggested documents to bring to your meeting with a financial advisor, if they apply to you.
Bonus: Consider these two items prior to meeting with an advisor. Writing out and sharing your thoughts would be helpful.
How would you describe your risk tolerance as it relates to investing?
What do you want to achieve with your financial assets? What is most important to you?
Here are 5 questions to ask when you do a financial review.
1. Is my investment strategy on track?
2. Am I saving tax-efficiently?
3. Am I protecting my income?
4. Am I preserving my assets?
5. How does my financial plan affect my family?
Family housekeeping items:
Do you have a will, living will and health care proxy? Are beneficiaries up to date? Are financial documents stored safely? Are you giving to charity in a tax-efficent manner?
Take a long-term view for your family. While all this might sound like a lot of ground to cover, an annual review is well worth the effort when you consider the hard work you've invested in building and protecting your wealth. The annual review can be scheduled at any point throughout the year.
IN CLOSING
Life events such as marriage, birth of a child, college, change of job, death or even divorce could change your POA, TOD, beneficary and/or trusted contact. Annual reviews is more than just reviewing your portifolio, its reviewing between the lines as well!
Also, please see below the schedule for TAX documents. This is only National Financial Services. You can call the office if you have questions.
We are thinking ahead for some seminars and events we feel may be interesting to you. If there is something, you would like more information on, please let us know. You can send this by using the website, www.parablefinancialnetwork.com. under the contact us tab. Please do not forget the referrals!
Did you know that on our website there is a Tax Library under Resources?
Tax Library
We've put together a collection of resources to help you manage your taxes as well as prepare for the upcoming tax season. Simply click on one of the topics below and you'll find a selection of tools and information related to taxes and tax strategies.
Key Retirement and Tax Number for 2023
NFS Tax Mailing Schedule
Retirement Distributions Tax Form: 1099-R
Available Online: 1/20/23
Mailed by Date: 1/20/23
Retirement Contributions and YE Fair Market Value Tax Form: 5498
Available Online: 1/20/23
Mailed by Date: 1/20/23
1099: 1st Mailing
Available Online: January 21, 2023 (POP 1)
Mailed by Date: January 21, 2023 (POP 1)
1099: 2nd Mailing
Available Online: February 11, 2023 (POP 2)
Mailed by Date: February 11, 2023 (POP 2)
1099: Preliminary Tax Statement
Available Online: February 11, 2023 (POP 2)
Mailed by Date: Online Only
1099: 3rd Mailing
Available Online: February 25, 2023 (POP 3)
Mailed by Date: February 25, 2023 (POP 3)
1099: 4th Mailing
Available Online: March 4, 2023 (POP 4)
Mailed by Date: March 4, 2023 (POP 4)
The IRS announces cost-of-living adjustments that affect contribution limits for retirement plans and various tax deduction, exclusion, exemption, and threshold amounts. Please see http://www.parablefinancialnetwork.com/Key-Retirement-and-Tax-Numbers-for-2023.2.htm
We pray you have a great February and May the God of Love Bless you highly!